How to make a free Europe planner route map fast with Google
Jun 28, 2023
You can make travel planning easy with Google Maps. Independent travel is a lot more satisfying and a lot less frustrating if there is a plan – or even a framework – that gets you where you want to go.
A route planning map of this type can be a blessing if a European journey is to be crammed into a week or two. Tight planning using Europe's generally reliable transport links can help get the best value for the traveller trying to experience a lot in a short period.
Creating a map like this takes getting used to, but a well-made map can store lots of travel information in a way that's easy to refer to on a smartphone or tablet.
This sort of mapping also allows travellers to plan an exciting day in a vibrant European capital city on a tight schedule. An example of planning a busy and exciting day is below. Android smartphone or tablet users, as well as iPhone and iPad users, can refer to their self-made Google Maps to fulfil all their bookings.
My Maps can be created on PCs and laptops. Apple products will use a slightly different process to the one outlined below.
This set of instructions, with a few user travel tips thrown in, will hopefully help you build an average map with basic details in 60 minutes or less, once you get started and repeat the steps. A one-month tour, or a longer trip with lots of map data, might take many hours or days.
Keep saving your map information and, for complicated planning, make occasional copies at various stages you can refer back to if you need to rethink stages. The starting point should be a list of places you want to visit and at least a rough idea of how you plan to travel. You can edit or update details later with the help of close research.
Create a map in Google Maps
To create a map on your computer, sign in to your Google account. It's possible to skip steps 1-4 below if you start at support.google.com/mymaps.
1. Click the Maps tab top right to enter Google Maps
2. Click the Saved icon on the bar at left
Expect a new map to open, one that covers your home location.
3. Click the "Maps" tab to the right of this
4. Click "Create map", shown in blue at the bottom
An untitled map will open for you to work with.
If you started from Google My Maps support, click the My Maps link, which will show a "Create a new map" button at the top. Click this.
At this stage you also have an option to import map data from another file, such as a spreadsheet, in the left-hand panel. We will return to this option below.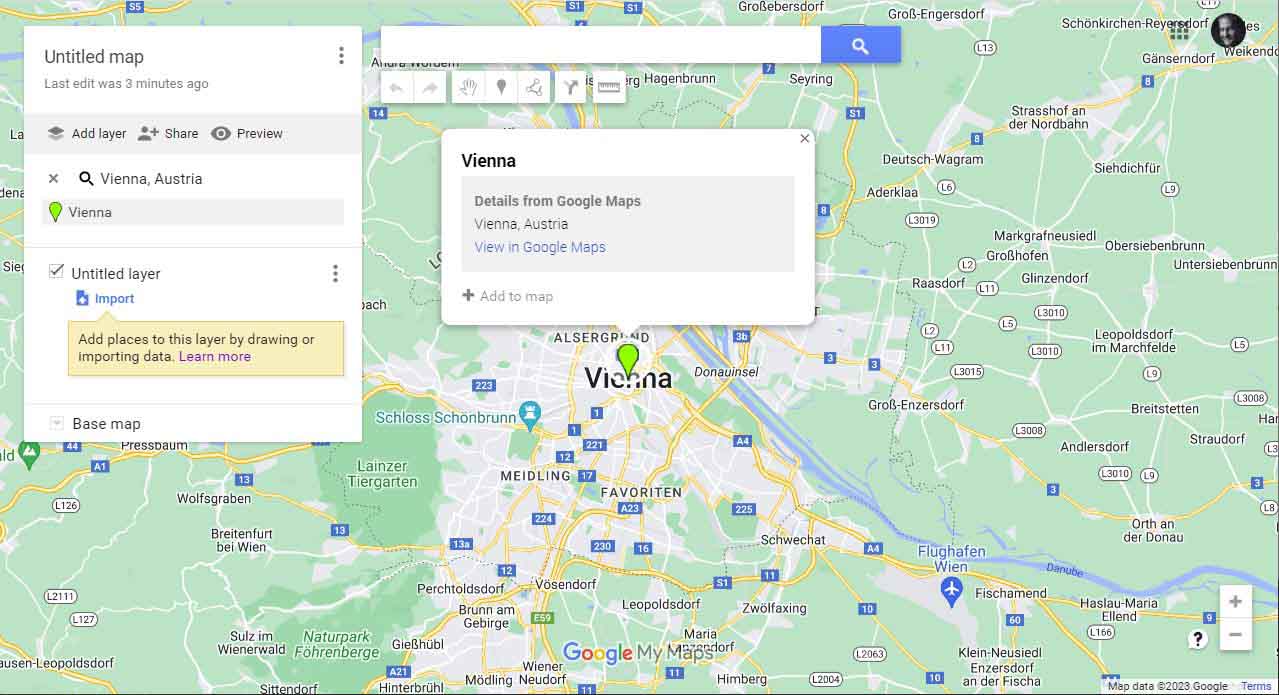 On the start-point panel – here labelled Vienna – click the plus sign "Add to map". The marker changes colour and appears on the list in the panel at left.
Click on "Untitled map" to give your planning map a name. You can also enter a description underneath. Your map now lives as a named file in Google Maps.
If, after naming a map, you wish to delete it, click the three dots next to the map name and select the "Move to Trash" option.
At this point you can click the three-dot overflow menu and use the "select default view" option to set the default view at the start point. From here, the map can be moved using the hand tool to drag in any direction or zoom at bottom right as needed.
Also, a paint-roller labelled "Individual styles" is showing to give you the option of styling your destination markers. You can set them as a sequence of numbers, which is easy to follow in order on your map, or add labels. You can exercise these options at any time in the process.
To produce rainbow coloured markers for all destinations on the map, click the paint roller, select "Individual styles" from the "Group places by" option, then "Style by data column > Name" before closing the dialogue window. To code the colours based on common description information, such as arrival transport arrival mode, select "Style by data column > Description".
To drop placenames next to the map markers, select "Individual styles" from the "Group places by" option, then "Name" from the "Set labels" option and close dialogue window. The names remain beside the markers when you zoom the map.
You can add useful data on each destination in the description field. Click the marker to open the destination window, and click the pencil to edit. Add arrival information such as date, mode and time, or details such as accommodation.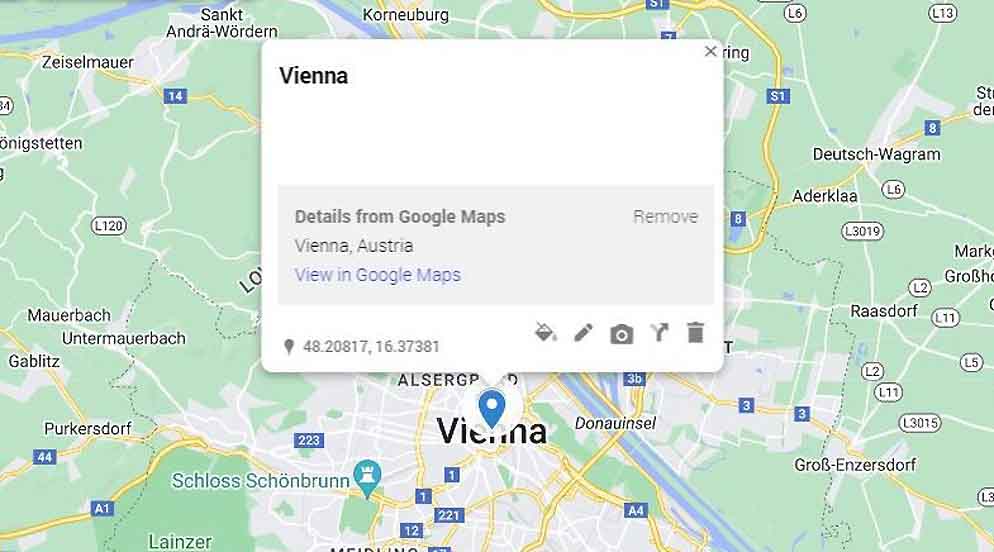 To set the next destination on the map, fill in a placename in the search bar and select. When added ("add to map"), it appears in the list in the left-hand panel. It's then easy to alter the map view as needed by selecting another destination as the list in the left-hand panel grows.
You can add any details for each destination marker on the map by clicking on the pencil on the panel for each. This panel is also one way of editing markers or colours (use the paint can icon) or adding images (use the camera).
Add directions to each map destination
Select "Directions" (the Y-shaped arrow) to add instructions on a further map layer using the panel at left (only car, cycle or walking icons can be added this way). This will add a layer to the map. It's best to name multiple layers if these are what you want to use. You can trash any destination from the destination marker panel.
Clicking on the paint can to the right of each destination on the left-hand list also allows adding of colours, or a menu of icon choices, to use to mark each destination. Even custom icons can be imported to use by selecting the custom icon option.
The left-hand list panel also allows the map to be previewed and shared with friends or family. You can then return to editing mode.
I've worked my way down the Danube from Vienna to Linz, then headed for Salzburg, all by the numbers.
Use the "Base map" option at the bottom of the left-hand panel to change colours and make your map a little easier to read. This can be handy when you want to view your map later on a tablet or smartphone. Below, I've done a little more planning and added a side-trip through Czechia.
Changing your travel plan using the map
Once the list of destinations is created in the left-hand panel, they can easily be moved around in the list and dragged to a new position in the order, which automatically renumbers any numbered markers. But it important to then edit any detail in the marker window accordingly.
I'm scheduled to travel to Prague, followed by České Budějovice, shown below.
But if I find I need to get to České Budějovice earlier in the week, to see something I desperately want to see on a day it's open, it's easy to drag marker 6 in the list above marker 5. Don't forget to edit arrival arrangements or other details for the relevant destinations accordingly.
Deleting a destination from the list is easy – open its marker window and trash it. It can be restored by an "undo" command on your computer.
I have decided on a side-trip to Bratislava from Vienna, which requires a shuffle of destinations. To add a destination, click Add marker from the tool set, which turns the positioning tool into a cross.
Click the new destination point on the map and name it.
Bratislava is added to the bottom of the list. Then click and drag it to the position after Vienna in the left-hand panel. All other numbers in the panel readjust automatically.
For any other help, consult support.google.com/mymaps.
Import your travel planning map to Google Earth
Exporting your map to Google Earth can be a fun option, though not essential. I haven't found it to be particularly useful, though there are customisation options for various map features.
To import, click the overflow menu next to the map name, select the "export to KML/KMZ" option, and download to your desktop or Google Drive.
Open Google Earth, and click the Projects icon on the left-hand tool bar. Import your KML file from the computer or Google Drive and view. The map features can be customised using the Map style icon.
Import map data from another file
Importing data such as placenames from an Excel spreadsheet drops markers on the map at all the named destinations. If the spreadsheet is set up with columns showing days and dates of arrival at each, transport mode of arrival (even scheduled times), and details of booked accommodation, this can be displayed on the map by clicking on each marker.
It's perfectly easy to plan your whole trip this way, from leaving for the airport, wharf or Eurostar train. I've simplified the process by covering only stages on the ground, from city to town to another city. Even a travel plan to cover multiple sightseeing trips in a city like Vienna can be managed with pinpoint accuracy.
Create your travel planning map from an Excel spreadsheet
One way of doing the preliminary planning is to create a table in Microsoft Excel that fills in the data you want about each destination. This can include dates and times, transport modes and reminders.
The start of the process is the same as above – create a map, fill in a start point to locate it (here Berlin), title the map and save it.
Below is the Excel table I've created for a one-week trip from Berlin to Prague with some rapid visits to some intriguing destinations in the German federal state of Sachsen. All the basic data for the trip is included: days, dates, transport mode, time of departure, and points of arrival. More data can be added, but too much could make the map unusable. In this form, the essentials are shown and can be called up on, for instance, a smartphone.
DB stands for Deutsche Bahn, the German national rail network, Hbf the Hauptbahnhof (central station), Bf (station), Koleje Dolnośląskie is the Silesian (Polish) regional transport network operating trains between Dresden and Görlitz, and Praha hlavní nádraží is Prague's central station. The S-Bahn and Regio services are local and regional DB respectively.
It will become clear soon why it's set up this way, but it was important to test the process with some potentially tricky problems, notably criss-crossing through Dresden in multiple directions before heading on to Prague. This seemed the best setup after half a dozen experiments – certainly, it worked.
To travellers, I would never recommend staying only one day in Berlin, Dresden, or even a smaller place such as Görlitz. There's far too much that's fascinating to see and do in such destinations. This is merely a practical exercise.
The map is centred on Berlin. Click the "Import" icon on the panel to get upload box where you can browse for the file you want, or drag and drop from the desktop or any folder. On upload, you get a question screen "Choose columns to position your placemarks".
Select "destination" – which contains the placenames Google Maps will find on your planning map – and continue. A second question screen will ask you to "choose a column to title your markers". The answer will be the same.
Click finish. The map will load your data (if all names are spelt correctly and there are no blank columns and rows in the table) and drop markers on your planning map. You also get your list of destinations in the left-hand panel.
You can then click on each marker and get all the travel data from the table in the pop-up windows on the map.
It can now be seen why the day 4 data is set up as it is. The Meissen-Bautzen trip (via Dresden Hauptbahnhof) travel data imports cleanly. Separate markers are set for the two legs ending in Dresden (days 2 and 6) and these can be selected from the ordered list at left. This seems the best way to get the right marker – in the right order – for the various trips to and through Dresden as well as the day 4 change of trains on the way to Bautzen. It seems the best way to avoid confusion.
However, setting up the table this way also works:
This simply delivers two day 4 markers on the map, the first for Dresden, the second for Bautzen. But the user would have to keep in mind that there is a second leg to complete that day.
If numbered markers are used, the default map display – when the correct Dresden leg of the trip is not selected in the left-hand panel – shows the highest number. The other factor to consider here is that the ultimate day 4 destination – Bautzen – will appear on the map as marker no.5.
What if my imported data table doesn't work?
Importing an Excel table with missing columns or rows will lead to a message like the one below. Google Maps doesn't like missing columns and rows in imported data and offers you the option to troubleshoot the problem by clicking the link "Open data table".
Google Maps opens a display window that flags the problem in red. In this case, the presence of a blank row will not upset the map display – close the window and click "Dismiss" to continue. If there are trickier or multiple problems with the table data, it's best to undo the import, fix any problems with the table, and import again.
Planning a busy day? Create a micromap
It's not hard to use the system described above to enjoy an active and fulfilling day taking in multiple sights in a teeming city.
I'll roll some of Vienna's great sights and activities into one day and lay them out on a city map. Some criss-crossing of the city will be necessary, but an excellent U-Bahn subway system will make it possible. There is well-positioned, inexpensive accommodation at Ibis Wien Mariahilf on Mariahilfer Gürtel.
Plus, the marvellous Habsburg palace Schloß Schönbrunn will be open from 8.30 for inspection, so an early start might make this possible. Let's number the map markers for this packed schedule.
What a day! At Schönbrunn, the state rooms tour will take two to three hours, without attempting to take in its extensive gardens and pavilions.
Follow this with a short stroll at the marvellous Schloß Belvedere and its formal gardens, then a 100-minute equestrian spectacular at the famous Spanische Hofreitschule at Vienna's central palace, the Hofburg, booked months in advance.
Then, a late afternoon performance at Muth, the home concert auditorium of the Vienna Boys' Choir, also long planned.
After an exciting day, return to the centre of the city to see the evening illumination of the cathedral of St Stephan. No tickets there – a pleasant pasta restaurant visit can be fitted in either before or after that.
A day to remember forever – three famous palaces, a world-renowned choir, the world's finest horse handlers and a cathedral to behold. All planned free with the help of Google Maps.
How do you plan your travel? Is there a secret formula, or an app? If you have something to share, email [email protected].